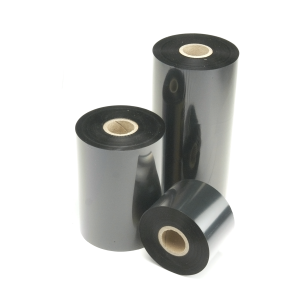 Ribbons
When selecting a ribbon for your in-house labeling project, NetWAV can help.
There are three basic materials available:
 • Wax ribbons for standard printing on paper materials
• Wax/resin ribbons for excellent resistance to chemicals on paper and synthetics
• Resin ribbons provide ultimate durability against chemicals and heat on synthetics
Process
First, we determine what printer is to be used.
We will then determine the best label material which will determine the best fitting ribbon material.
With over 25 years in the business of label printing, NetWAV is a Premier Provider.
Please consider getting a sample ribbon to test!
MP Wax
Product Description
Specially formulated to print at a wide range of energy and speed settings, this wax provides an economical solution for everyday thermal transfer printing. It incorporates proven backcoat technology to protect your printhead. This wax product features a blend of ingredients that are combined in an ink that prints dark images and crisp, clean barcodes.
Used with most paper label materials, both coated and uncoated. All sizes available.
======================================
TR4085plus® Premium Resin Enhanced Wax
Product Description
TR4085plus®, the industry's leading wax product since its introduction to the market in November 2000, features our SmoothCoat® backcoat with a 4 Million Linear Inch
Guarantee. The unique ink formulation of TR4085plus® dissipates static and is versatile enough to print on a wide variety of labelstocks. No other wax product beats TR4085plus® when it comes to edge definition for crisp, rotated barcodes and dark, durable images.
Used with most paper, coated, un-coated and many synthetic label materials.
=====================
R300 General Purpose Resin
Product Description
R300's extensive label adaptability and high print speed capability make it the most diverse resin of its kind. It outperforms the competition in abrasion and solvent resistance, uses less print energy and is designed with DNP's standard anti-static and backcoat properties to protect and extend the life of printheads. And, like all DNP ribbons, R300 is an industry leader in edge definition, producing dark, dense images for improved scan rates.